No, that's not a typo.
I know this cusp-of-the-new-year timeframe is a popular time to spotlight favorites and best of's and top tens from the year about to pass, but I'm in the mood to look forward, not back.
A couple of years ago, I started gathering references to books I wanted to read together in one place, instead of rat-holing sticky notes and review clippings in various piles and cubby-holes where I would find them much later and never when I was in a bookstore or library. It has lately occurred to me that this list of books TO-READ just might be growing faster than my HAVE-READ list, which would seem to be a problem.
The obvious remedy is to get more books off the former list and onto the latter one. Rather than being paralyzed whenever I scroll through all those titles, I've decided to play favorites in a moment when I'm not looking for something to read, selecting a (hefty) handful of titles to get started with. Twelve seems manageable–more ambitious than ten, while still leaving plenty of room for serendipitous browsing or referrals from friends.
Without further ado, then, and in no particular order, here are twelve books I have every intention of reading in 2019. Some are by lesser-known authors, and a few have been out for a while. I've tried to give myself some variety, including titles that are relevant to my research, some that just intrigued me, and a few that I've been meaning to read for too long. You might find something here to add to your own TO-READ list…unless yours is also getting too long.
I'm not going to promise that I'll get every one of these read , but I'm gonna try. I'll meet you here around this time next year, and we'll see how I did.
Scienceblind: Why our Intuitive Theories About the World are So Often Wrong, by Andrew Shtulman.
Quite possibly a  "need-to-read" rather than a "want-to-read," since this book promises to be highly relevant to my own work-in-progress, which is about scientific literacy. But it also just sounds interesting.
Sawbill: A Search for Place, by Jennifer Case.
One of the many advantages of thinking of myself as a writer is being able to justify going to writer's conferences, where I meet cool and interesting people. Having met Jennifer and from reading some of her shorter essays, I know she's a keen observer who has done deep thinking about place-based writing.
Where Bigfoot Walks: Crossing the Dark Divide, by Robert Micheal Pyle.
This one makes the list because the subject matter is exactly what I usually wouldn't read. Pyle is an erudite and generous writer, though, and I've been starting to catch myself up on his books. I got to see him give a reading in Salida, CO in November. It's hard to fault a naturalist/realist who, in this day and age, can make you laugh while admitting that we all have good reason to cry.
Known and Strange Things: Essays, by Teju Cole.
Because: essays, and I love essays. A new writer for me, too, and so maybe the best kind of book.
The Writer's Eye: Observation and Inspiration for Creative Writers, by Amy E. Weldon.
I try to read one or two writing craft books a year, to remind myself how much I don't know. I met Amy at the same conference where I also met Jennifer Case, so I guess this is sort of a theme running through the books I selected to push to the top of my reading list: to catch up on the accomplishments of friends. Besides that, Amy is wicked smart, crazy hard-working, and an insightful commentator on the effects of digital media, a topic that befuddles me almost to the point of paralysis.
The Biological Mind: How Brain, Body, and Environment Collaborate to Make Us Who We Are, by Alan Jasanoff.
Another book that's likely relevant to my current writing project. I'm intrigued, too, because I'm a bit of a neurology nut, and this one looks like it might cross over to pick up on my place-based writing interests as well.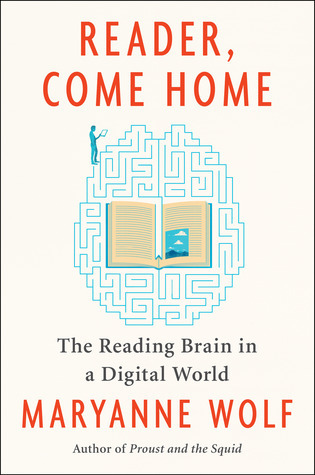 Reader, Come Home: The Reading Brain in a Digital World, by Maryanne Wolf.
I read Wolf's Proust and the Squid several years ago, and it might be a tough act to follow, since the earlier book thoroughly altered how I think about writing and reading in this, our computer age. As I said above, the digital universe baffles and befuddles me, even as I wallow around and try to make my way in it. As I also said above, I'm a neurology nut. I've been thinking I should re-read Proust and the Squid, but will try this new one first.
What is the What, by Dave Eggers.
I have some fairly entrenched reading habits. This book ventures outside of pretty much all of them. Which may be why I've been meaning to read it.
The Library Book, by Susan Orlean.
I don't always use the library as often as I should…which might be why that TO-READ list has gotten out of hand. Among other things, I include this one as a reminder to seek out some of the books on this present list at a venerable lending institution near me.
Ordinary Light: A Memoir, by Tracy K. Smith
Smith said this in an interview I read a couple of years ago: "I think any poem, no matter the topic, is an endeavor to get to whatever sits behind what we think we know or what we have learned to name." If I could put a lofty label on how I'd like to write, "Endeavoring to get behind what I think I know" would be it.  Also, I indexed a book several years ago by Smith's husband, Raphael Allison, so even though I don't know Smith, I can claim this funny kind of connection.
Coyote America: A Natural and Supernatural History, by Dan Flores.
I usually read a lot of natural history, so I need something in that vein to round out my target list. I'm seeing coyote tracks in the snow every time I go outside lately, so this seems like an appropriate pick.
The Last Prince of the Mexican Empire, by C.M. Mayo.
I don't read a lot of fiction, but I loved Mayo's travelogue about Baja Mexico, Miraculous Air. She is another scary intelligent and freakishly hardworking writer that I know personally, and it's possible that I want to read more of her work in hopes that some smarts and diligence will rub off on me. Visit the Madam Mayo blog if you'd like to wander in the company of a brilliant and quirky guide.